PM4i Mid-Range Printer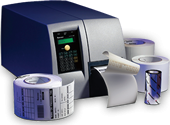 Overview
The PM4i is the first industrial-strength label printer to offer integrated serial, USB and ethernet interfaces as standard equipment. It can operate as a "smart client" eliminating the PC from the application while also running peripheral devices such as scanners, weight scales and other printers.
Are you looking for more efficient processes, reduced costs, and increased production?
The PM4i is an industrial printer designed to excel in demanding applications and environments. Utilizing the latest technology, the PM4i features a strong and proven mechanical platform, and powerful newly developed electronics.
The PM4i printer acts as a "smart client" executing user-defined programs. This means your PM4i printer eliminates the personal computer, operates additional hardware (e.g. scanners, other printers, conveyors), accesses information from network host, and retains the ability to change as needed with the application for additional functionality. When using the wireless option for the PM4i, any attached peripheral devices also become part of the wireless infrastructure.
Printer command languages do not restrict the PM4i bar code label printer. The printer can be changed to understand and replace competitive and older Intermec printers without requiring any changes to the host programming or label formats that are currently being used.
The PM4i includes integrated wired or wireless networking. The wireless interface uses an integrated standard 802.11b radio. This radio provides 128-bit WEP encryption of the information relayed through the network. Intermec's wired and wireless technology ensures secure printing and network infrastructure for all environments.
This is an extremely versatile bar code label printer. There are up to five interface ports that can be used simultaneously. The PM4i includes serial, parallel, USB, internal ethernet, and wireless. The magnetic QuickMount printhead eliminates hassles and the need to call a service technician. The printhead is replaced quickly and easily with the magnet and u-brackets ensuring proper alignment. The double-clutching ribbon mechanism means that you are no longer restricted to ribbon types based on how they are wound. The handy, inexpensive and PC-compatible Compact Flash memory technology provides quick and easy upgrades of firmware, fonts and memory.
The PM4i printer is exceptionally fast in throughput and printing, reliable, and delivers very high print quality.
Features
Superior throughput eliminates wait time at the printer
Heavy-duty metal construction withstands harsh / rugged environments
Integrated ethernet, USB and serial interface standard
CompactFlash™ memory for quick and easy firmware, font and memory upgrades
Supports stand-alone printer applications
Easily adapts to changing host environments and applications
Emulates and replaces competitive and older Intermec printers
Utilize up to five interface ports simultaneously, including internal wireless
Magnetic QuickMount™ printhead for easy printhead installation
User selectable printer language
Double-clutching ribbon mechanism supports ribbons wound in either direction
Replaces legacy printer 3400e
Specifications
Environment
Operating Temperature :
+5° to +40°C (+40° to +104°F)
Humidity :
20-80% RH non-condensing
Noise :
50 dB (printing), no noise standby
Interfaces
Standard :
• RS-232, up to 115.2 kB/s
• USB 1.1
• Internal Ethernet 100/10BaseT
• I2C-bus for cutter
• Wand interface for EasySet™ System
Optional :
• Wireless, internal 802.11b Ethernet
Supported protocols :
TCP/IP-suite (TCP, UDP, ICMP,IGMP, etc.), LPR/LPD,
FTP, BOOTP, DHCP, HTTP, SNMP, SMTP.
SNMP-MIB II supported (over UDP/IP), private enterprise MIB included
Network Interface Options :
Integrated High Speed Ethernet RJ-45 connector for 10baseT Ethernet or 100baseTX Fast Ethernet
Memory
Standard :
4MB Flash memory
8MB SDRAM
1 Compact Flash slot
Options :
Additional FLASH memory up to 16MB (8+8)
1GB Compact Flash memory
Physical Characteristics
Length :
54.3 cm (21.38 in)
Width :
29.8 cm ( 11.73 in)
Height :
26.1cm ( 10.28 in)
Weight :
13.5 kg (29.76 lbs.)
Power
115/230VAC auto-switch w/PFC
Input :
90-264VAC, 45-65 MHz
Print Specifications
Max. Width :
104 mm (4.09 in) at 203 dpi
105.7 mm (4.16 in) at 300 dpi.
Max. Length w/std memory : 2520 mm (99.2 in) at 203 dpi
1092 mm (43.0 in) at 300 dpi.
Max. Length w/16MB SDRAM :
4095 mm (161.2 in) at 203 dpi
2730 mm (107.5 in) at 300 dpi.
Resolution :
8 dots/mm (203 dpi)
11.8 dots/mm (300 dpi)
Print Speed :
200 mm/sec (8ips)
Supported Bar Code Symbologies
1-dimensional :
Codabar, Code 11, Code 39, Code 93, MSA (modified Plessey),
Code 128, Code 128 Subset A-C, DUN-14/16, UPC/EAN Codes (EAN 8, EAN 13, UPC
Version A, UPC Version E), EAN-128, EAN-128 Subset A-C*, Industrial 2 of 5,
Interleaved 2 of 5, Interleaved 2 of 5 A, Matrix 2 of 5*, Planet, Postnet,
Straight 2 of 5*, UCC-128 Serial Shipping Container Code, RSS, HIBC Code 39
(IPL only), HIBC Code 128 (IPL only), JIS-ITF (IPL only)
2-dimensional :
Code 16K, Code 49, Data Matrix, MaxiCode, PDF417,
QR Code, MicroPDF417, EAN.UCC Composite