CV30 Fixed Mount Computer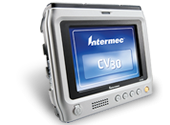 Overview
With its compact, full-screen footprint, choice of Microsoft CE.NET 5.0 or Windows Mobile 5.0 operating systems, support for RFID, speech recognition and voice, Cisco Compatible WiFi and Bluetooth connectivity and extremely rugged design, the CV30 is ready for just about anything.
The CV30 rugged fixed mount computer provides flexibility and high-performance capabilities in a compact design that delivers real-time wireless supply chain management right where the data is – at the dock, in the freezer, on the warehouse floor, or in the yard. Incorporating the CV30 into your warehousing or manufacturing operation will enhance efficiency, increase safety and improve operator performance and productivity.
The CV30 is engineered to withstand the abuse of industrial environments and to satisfy user demands that vehicle mount computers be as durable as forklifts. Its cast magnesium housing, standard heated display and solid state design provides protection exceeding industrial and military standards. The CV30 thrives in harsh environments where dust, moisture or extreme temperatures are constants.
With the addition of Intermec's SmartSystems™ , the CV30 can be used to remotely manage peripherals such as Bluetooth® scanners and RFID, as well as to remotely and easily manage global deployments.
Features
Best-in-class flexibility offers the most versatile set of features and options for fixed mount vehicle and stationary applications
Smallest full-screen footprint
Improves forklift safety by increasing driver visibility
Ideal solution for cross-application deployment
Versatile ADC Control Center that enables real-time decision-making through integration and management of multiple types of data inputs
Specifications
Data Collection Scanner Support
Bluetooth®
Tethered serial bar code scanner
Tethered RFID scanner
Integrated wireless bar code scanner
Bar code slot reader
Display
6.4" (163mm) color VGA 640x480 transmissive TFT LCD unit with replaceable touch panel
One touch front console user brightness adjustment
140 degree viewing angle; 350 NIT
Touch screen heater standard to minimize frost/fog build-up on viewing area
Environment
Operating Temperature :
-30° to 50° C (-22° to 122° F)
Storage Temperature :
-30° to 70° C (-22° to 158° F)
Humidity :
5 % to 95 % RH Non-condensing
Vibration and Shock protection :
Withstands standard material handling vehicle environments. Meets or Exceeds MIL STD 810F
Environmental Protection :
Sealed to IP66 compliant (Dust tight and high pressure water)
Memory and Storage
128 MB SDRAM
128 MB Disk on Chip Flash Memory for on-board nonvolatile storage of applications and data
Microprocessor
Intel® XScale PXA270 Application Processor, 520 MHz
Operating System
Windows® Mobile™ 5.0 Premium Edition
Microsoft® Windows CE.NET 5.0 Professional
Physical Characteristics
Depth :
5.46cm (2.15 in.)
Width :
18.92cm (7.45 in.)
Height :
17.65cm (6.95 in.)
Weight :
1.47 kg (3.25 lbs) (Enclosure constructed of cast magnesium)
Power
Battery type/Supply :
6-60 VDC input DC/DC
15-96 VDC input DC/DC
AC/DC Converter
Memory backup : Rechargeable Lithium-Ion.