SR61 Tethered Handheld Scanner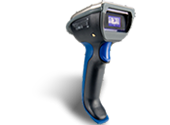 Overview
The Intermec SR61 handheld scanner meets the needs of rugged applications in warehouse, distribution center and industrial manufacturing settings. The SR61 is engineered to withstand the abuse of industrial environments and to satisfy user demands that hand held scanners be as durable as forklifts. Its high impact housing is virtually impenetrable, and its solid state design provides protection exceeding industrial and military standards. The SR61 thrives in harsh environments where dust, moisture or extreme temperatures are constants and production uptime is critical.
Interfacing Flexibility
With the ability to interface with Intermec computer products including the CN3 series, CK3, CK30, CK31, CK32, CK60, CK61, CV30, CV60, 700 series standard PCs, the SR61 scanner increases productivity while keeping costs down. Users can connect to one Intermec host device enabling multiple people to scan items for inventory management, picking, shipping and receiving, cross docking, work-in-process, tool crib, and pallet tracking, all with ease.
Scan Options
With multiple scan options, including linear, area and standard range laser, the SR61 allows users to configure the scanner to meet the specific needs of their environment, whether they include reading specific bar code symbologies, decoding poor quality or damaged barcodes with ease or utilize image capture for proof of delivery and point of service applications.
Configure and Personalize
The SR61 includes Intermec's EasySet™ software setup tool for easy configuration and personalization. The user can quickly set security options, select beeper tones and volumes, good read and error read responses, and many other customizations.
Reliability and Ruggedness
Scan-intensive applications require reliable, accurate scanning and the SR61 delivers. The SR61 is designed to withstand rigorous application environments surviving multiple drops to concrete, cold and hot temperatures, and sealed to withstand dirt and water.
Features
Interfaces with Intermec terminals and personal computers
Choice of linear imager, area imager, or standard range laser scan options
Easy configuration and personalization
Industrial durability stands up to harsh environments
Also available in a cordless Bluetooth® configuration as the SR61B
Specifications
Accessories
SR61 Dangle Suspension (wrist or fixed)
Belt Holster
Desktop / Wall Mount Charger
2, 4 and 8 Bay harger
Bluetooth USB Adapter
Replacement Battery w/ Boot
EasySet™ Configuration Utility
Bluetooth RS232 adapter
Keyport Lite Software Wedge (for use with PCs using Win95, 98, 2000, XP SP1 and English QWERTY keyboards)
Keyport Bluetooth Software Wedge (for use with PCs using Win XP SP2 and international keyboard types)
Environment
Operating Temperature:
-20°C to +50°C (-4°F to +122°F)
Storage Temperature:
-40°C to +70°C (-90°F to +158°F)
Recharging Temperature:
0°C to +35°C (32°F to +95°F)
Humidity:
0 to 95% RH, Non-condensing
Vibration and Shock protection:
SAE Specification J1399 Class 3 (off road vehicle)
Environmental Protection: IP54
Drop Survival:
26 drops onto concrete or steel surface from a height of 1.98 meters (6.5 feet)
Ambient light:
Works in any lighting conditions from 0 to 100,000 lux
Physical Characteristics
Length:
17.78 cm (7 in)
Width:
6.99 cm (2.75 in)
Depth:
11.43 cm (4.5 in)
Weight:
(Cordless version with battery): 425 gm (15 oz)
(Cabled version without cable): 280 gm (10 oz)
Power
Battery type/Supply:
(Cordless) Lithium-ion
Battery Life:
(Cordless) 10+ hours per full charge
Recharging Time:
(Cordless) 2.5 hours for 90% charge
Cables:
Cabled versions are powered via host or universal 5 volt power supply
Scanning Performance
Scan Engine Options:
Standard range laser (EL20) - See product profile
Linear imager (EV10) - See product profile
Area imager (EA11) - See product profile